SitScape selected as a "Must-See" Technology of GEOINT at Tampa, FL (Apr 11, 2014)
We are happy to share the good news that SitScape is selected as a "Must-See" technology for GEOINT at Tampa, FL, April 14-17, 2014. We look forward to see you at Booth #2066 at GEOINT.
The blog is tiled "Tech Titans To Visit At Geoint: Here is my take on the must-see firms on the expo floor.".
Please check out the list of the must-see technologies here.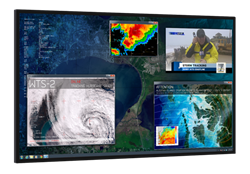 It is worth noting that SitScape's partner in the visual collaboration space Technical Innovation (TI) will also have a booth at GEOINT this year. They will showcase SitScape's award-winning visualization, collaboration and big data analytics technology with their giant display there, please check it out.
Using Planar's 84″ Ultra HD 4K LED backlit LCD, Technical Innovation will be in Booth #1101 demonstrating SitScape, a proven and secure collaboration and web based data visualization solution. SitScape's intuitive GUI & advanced software provide real-time contextual collaboration from disparate sources, creating on-demand situational awareness and secure information sharing to the Enterprise and Mission/Remote Teams.
The GEOINT Symposium is the nation's largest intelligence event of the year.
The annual GEOINT Symposium, hosted by the United States Geospatial Intelligence Foundation, is the nation's preeminent intelligence event.