Air Force Vice Chief of Staff Gen. Stephen W. Wilson speaks to a crowd of innovative technology businesses, venture capitalists and Airmen during the inaugural Air Force Pitch Day in New York, March 7, 2019.
Air Force Pitch Day is designed as a fast-track program to put companies on agile contracts and same-day awards with the swipe of a government credit card.
Air Force Pitch Day is modeled after commercial investment pitch competitions to deliver a faster, smarter approach to compete for ideas in the accelerating technology ecosystem. The process is a major departure from the lengthy contractual processes typically expected of the military.

Air Force Vice Chief of Staff Gen. Stephen W. Wilson emphasized that lowering barriers to access and empowering people – whether small businesses, industry, research labs or academia – allows the Air Force to deliver speed of capability to the battlefield.

"Events such as Pitch Day allow us to connect small businesses to the operator, then to a real problem and bring those two together to build a partnership," Wilson said.

Air Force contracting officials reviewed 417 submissions received during the application period and then invited 59 innovative businesses to pitch their proposals in person March 6.
SitScape was selected as one of the 59 finalists to present on-site at NYC on March 6.
During the presentation at NYC, the innovation of SitScape's software deeply impressed the expert review committee of Air Force at NYC, received an unanimous endorsement, thus received the award and a new contract on the spot with part of the payment the same day as well.
Below, SitScape CEO Kevin Yin holding the new signed contract.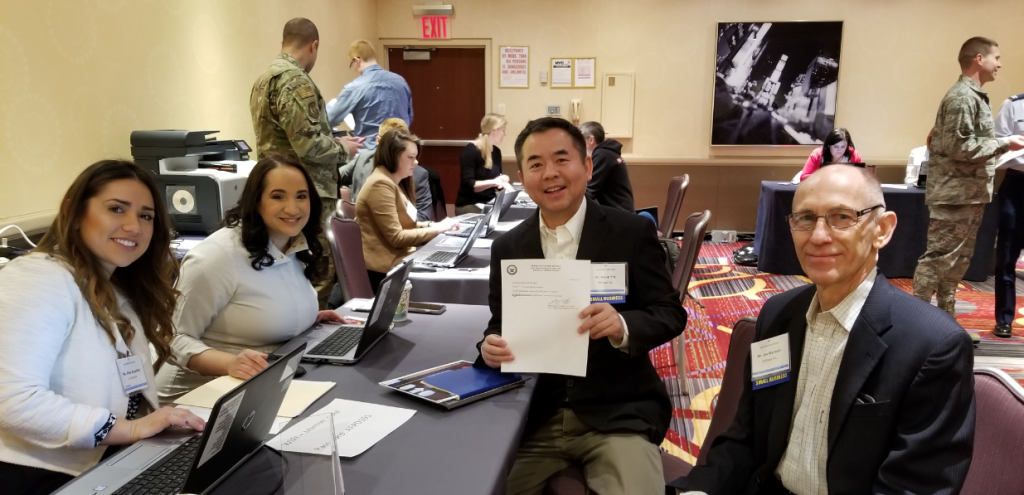 Below, Air Force contract team was making a partial payment to SitScape on the spot, with Dr. Will Roper, the Assistant Secretary of the Air Force for Acquisition, Technology and Logistics (AT&L), watching that historical moment.