Case Study: How United Airlines is cracking down on 'mistake fares' using SitScape Software
The following story was covered by the leading airline blog at www.briansumers.com on April 08, 2015.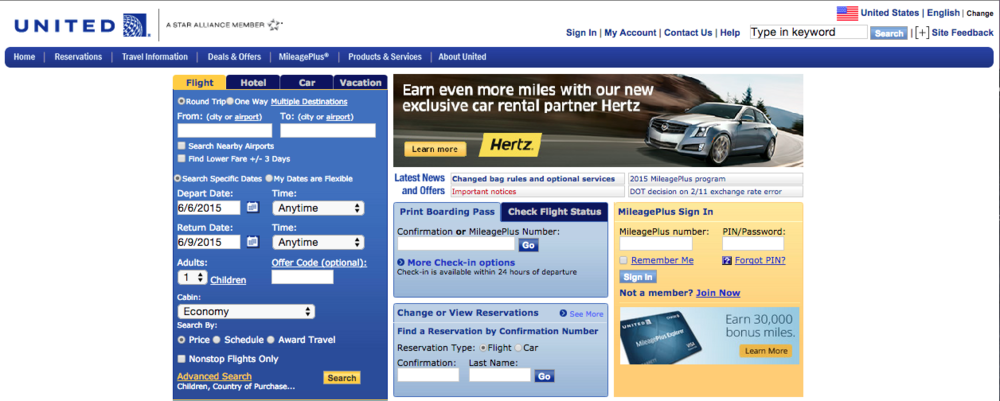 "United Airlines is tired of savvy travelers capitalizing on its mistakes – like $0 fares – and the Chicago-based carrier has decided to do something abut it.
United is creating a new Digital Operations Center at its headquarters to ensure the airline loses a lot less money when it makes silly mistakes, like selling free or deeply discounted fares filed in error. In a note to employees, United admitted that blogs, message boards and social media sites often publicize the carrier's mistakes before anyone at the airline knows there's a problem.
One example happened in September 2013, when United started selling many tickets for free on its website. Bloggers and Twitter users quickly figured out the problem, and many rushed to book tickets. United ultimately honored them.
A major problem? The entire internet, including the frequent flier message board Flyertalk.com, was aware of the problem before United. From the note to employees:
Flyertalk picked up on it within 30 minutes; however we did not discover it for 50 minutes. After discovery, it took just over 20 minutes to fix this issue; however over the entire duration of 70 minutes we lost $2.9M.
United has resolved never to let this happen again. At the Digital Operations Center, staff will use special software from SitScape and a 10-monitor video wall to "detect commercial impacts, fraudulent activity and end user manipulations."
That's not to say you'll never see mistakes on Twitter again. But the window for booking $0 fares will be much shorter.
"Proactive monitoring will improve reliability of our digital channels, increase customer trust by proactively managing issues, and avoid costly PR and litigation," United told employees.
I'm shocked at how often airlines make costly errors in filing fares. The most recent offender was American Airlines, which last month mistakenly sold business class fares to China for less than $500. It honored most of the fares."