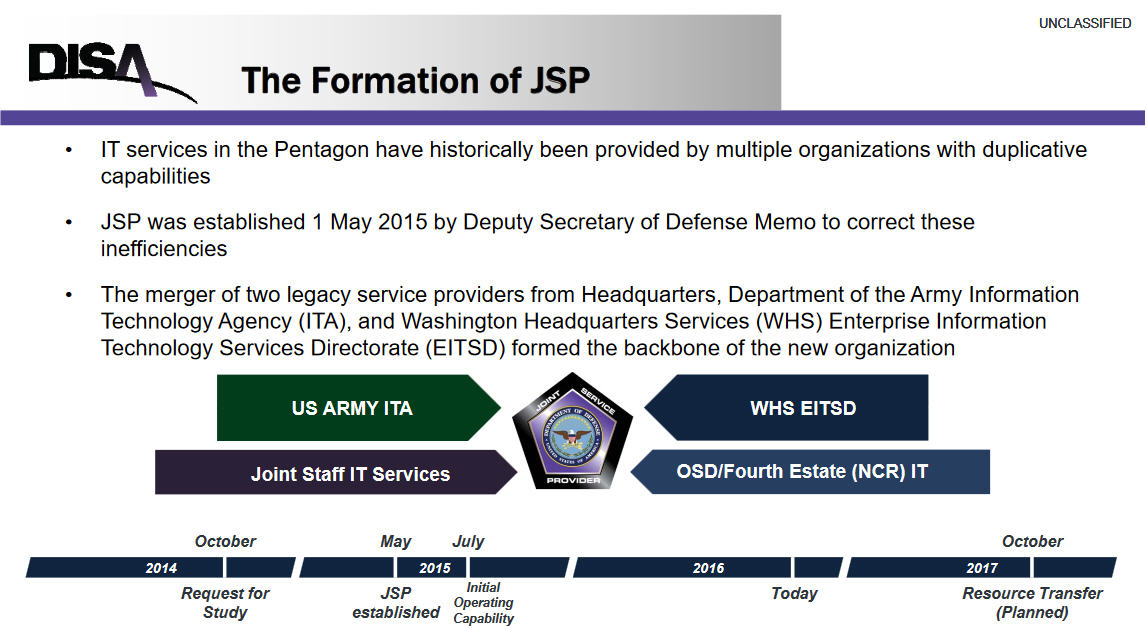 Source: http://www.disa.mil/~/media/Files/DISA/News/Conference/2016-F2I/dravis.pdf
Joint Services Provider (JSP) was established 1 May 2015 by Deputy Secretary of Defense Memo to merger of two legacy service providers from Headquarters, Department of the Army Information Technology Agency (ITA), and Washington Headquarters Services (WHS) Enterprise Information Technology Services Directorate (EITSD) formed the backbone of the new JSP organization.
So JSP provides an very important and a new centralized and integrated role in support of Pentagon's operations with its services.
Both Army ITA and WHS EITSD have been SitScape's customers before the merger and the official formation of JSP.
After in-depth review and study by the new JSP organization across 100+ tools, in Q3, 2017, JSP leadership has approved to continue to license SitScape's software to support its vast operations.
SitScape's COTS technology has the core capabilities that can significantly enhance JSP's operational efficiency, situational understanding, and faster information sharing and decision making.