MITRE Corporation has a public web site about the Analytic Technology Industry Roundtable at http://www2.mitre.org/public/analytic-technology/index.html
This is an overview from its homepage:
Every U.S. government agency relies on data analytics for good decision making. And every agency uses analysis and analytic technologies from a wide variety of technology companies.

The challenge? Putting together cohesive analytics from multiple systems can be truly puzzling. And this is just one of the challenges government agencies face, with others including acquisition and procurement considerations, cloud adoption, and more.

Recognizing this, the Analytic Technology Industry Roundtable formed as the focal point for the analysis and analytic technology industry. Our goal is to provide our government customers with both a cohesive industry voice and ear.
This is from its Membership page: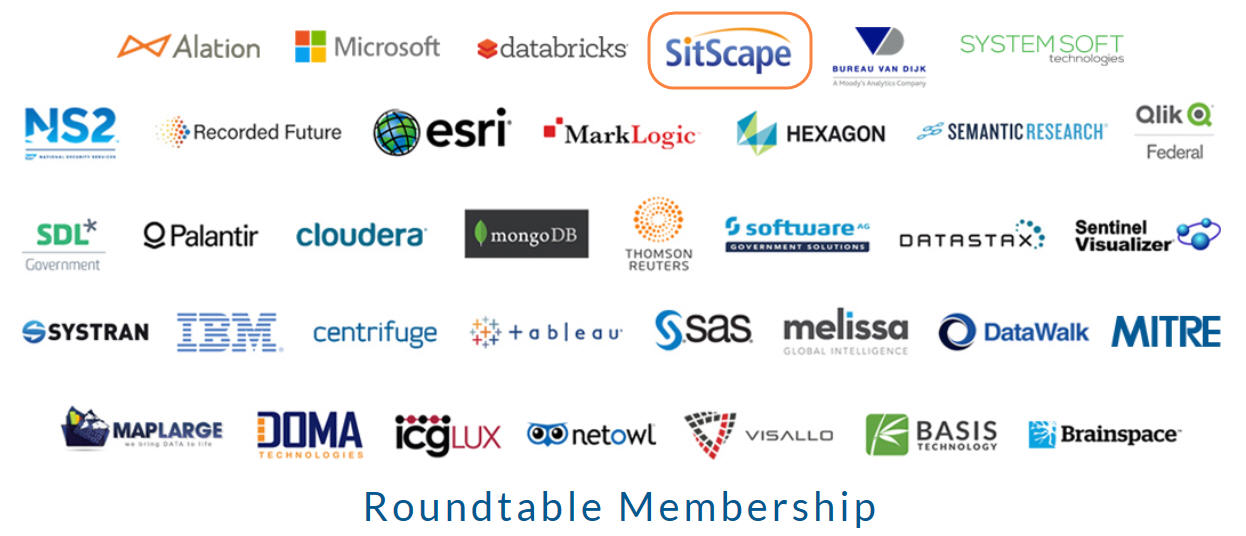 The Analytic Technology Industry Roundtable serves as a focal point for the analysis and analytic technology industry. We meet monthly at MITRE in McLean, Va. As a private, not-for-profit corporation that operates federally funded research and development centers, MITRE provides the Roundtable with a neutral environment, guidance, and structure.

Currently, the Roundtable membership is comprised of 30 companies and is growing. Industry members include: Alation, Basis Tech, Brainspace, Centrifuge, Cloudera, Databricks, DataStax, DataWalk, DOMA Technologies, Esri, FMS, Hexagon US Federal, IBM, ICG Lux, MapLarge, MarkLogic, Melissa Data, Microsoft, MongoDB, Moody's Analytics, NetOwl SRA, Palantir, Qlik, Recorded Future, SAP NS2, SAS, SDL Government, Semantic Research, SitScape, SoftwareAG, System Soft, SYSTRAN, Tableau, Thomson Reuters, Visallo, and MITRE.